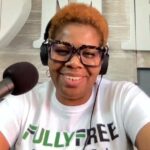 Willette Benford is Board Chair of the Fully Free campaign of Heartland Alliance.
In this episode she tells the story of how she was convicted and sentenced to 50 years in prison, developed a transformational relationship with God, worked while in prison to improve her life and the lives of others around her, was released early after serving two decades in prison due to a change in the law, and after release faced – and overcame – illegal denial of housing due to her past record.
She is now a passionate advocate for removing legal and social barriers to successful reentry to community life after people are released from prison.