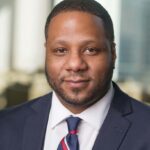 Marlon Chamberlain manages the Fully Free campaign of the Heartland Alliance in the Chicago area. In this episode he shares his personal story and insights gained from serving over a decade in federal prison, returning home to community and family life, and following the path that led him to where he is today.
Mr. Chamberlain is a serious student and teacher, always as he says being one or the other. Among the many insights he shares in this episode is his observation that in prison there are three tracks: (1) crime college; (2) just passing time to do the time; and (3) self-improvement to prepare to live a happy, productive, law-abiding life after release. He maintains that which track people choose while incarcerated is dependent on both their mindset and choice of associates while in prison.
He tells of how his most influential mentors and teachers while in prison were other incarcerated people, many of whom became like family to him and who continue to support each other after release. He maintains that effective reentry programs will draw upon that positive power and subject matter expertise by placing returned citizens in key roles in designing, leading, and delivering reentry support services.
He also shares a brief introduction to the Fully Free campaign, which is explored more fully with him in our next episode.
Subscribe to this program to be notified of that and other future episodes.